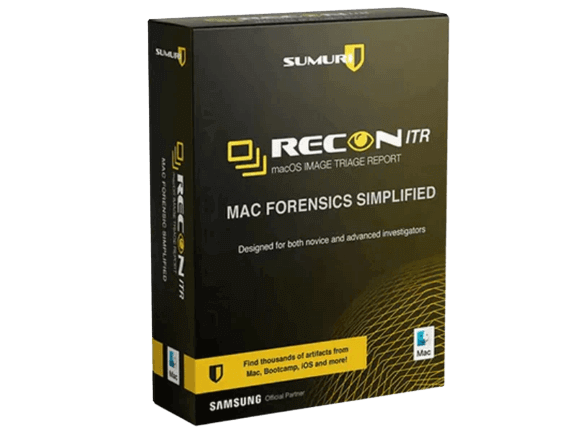 SUMURI RECON ITR MacOS Image Triage Report
Your advantage : No customs duties and no import tax within the EU.
---
RECON ITR


RECON ITR is a unique solution that captures and forensically evaluates Macs like no other it forensic tool on the market. Built from the ground up with macOS, this marvel of forensic innovation harnesses the full power of the Mac.

RECON ITR does not require reverse engineering and is not ported from other operating systems, which means more information and more accurate results.

SUMURI designed RECON ITR with the customer in mind to ensure investigators have the most versatile tool available when Apple hardware or Mac operating system changes occur. RECON ITR achieves this and much more by including unique and revolutionary features while priced well below the competition.

The most important functions of RECON ITR are:

Support for creating forensic images and examining Apple Intel & Silicon Macs
macOS Volatile Data Collection
Integrated software write blocker at no additional cost
Support for T2 chipsets, APFS and local Time Machine snapshots (APFS snapshots)
Create logical image with automatic artifact collection
Rapid release schedule for updates and new module development
Examination and forensic processing of iOS backups
Report formats - PDF, HTML, CSV and XML
Advanced timeline analysis
Track and view a suspect's location
Recovery of user and system passwords
Identify the origin of files
Automatic creation of chat timelines for iMessage and Skype
Ability to customize and save templates
Extended and module-internal file explorer
Custom plugin development available
Identify and export virtual machines
It comes with USB Type-C-to-C and Type-C-to-A cables for added convenience
Built-in security options on the Samsung T7 use AES 256-bit encryption
Contains both a bootable drive and a live imaging drive with enough space for data collection
Forensic Mac imaging and much more!


RECON ITR includes PALADIN PRO at no extra charge to support imaging and forensic examination of macOS, Windows and Linux.

PALADIN PRO
PALADIN, SUMURI's bootable Linux distribution is designed to give back to the forensic community.

PALADIN PRO is a preconfigured USB stick with 64-bit and 32-bit versions of PALADIN and PALADIN EDGE on a new USB drive that now offers USB Type-A and C connectors! This eliminates the need to carry multiple disks and supports a wide range of hardware.

PALADIN includes over 150 precompiled open source tools and our PALADIN tools. The PALADIN ToolBox offers image creation, hashing, image conversion, selective logical imaging, unallocated space imaging and automatic writeblocker.

PALADIN is court-approved and used by thousands of IT forensics professionals around the world.

PALADIN PRO now includes CARBON preinstalled for investigators who wish to purchase a license!

CARBON
CARBON is SUMURI's premier virtualization tool with support for almost any Windows system or IT forensic image.

CARBON allows the investigator to view evidence, bypass Windows credentials with the push of a button, and boot into a forensically protected virtual environment.