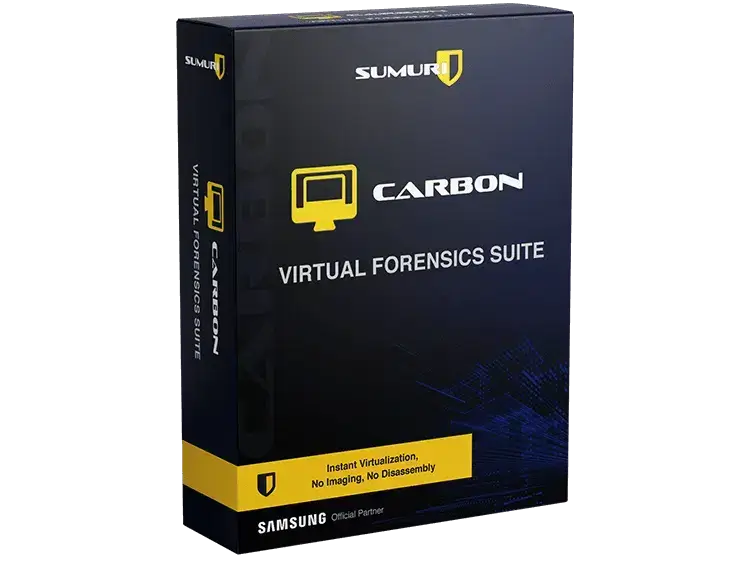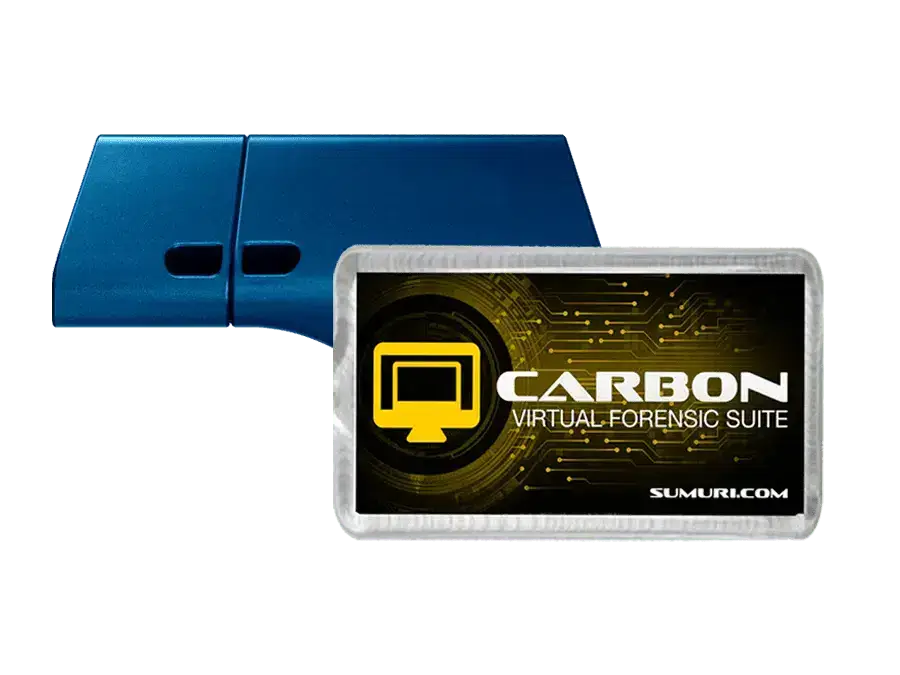 SUMURI CARBON Virtual Forensics Suite
Your advantage : No customs duties and no import tax within the EU.
---
CARBON



THE FUTURE OF VIRTUAL FORENSICS - INSTANT VIRTUALIZATION OF ANY WINDOWS COMPUTER


There are other virtualization solutions out there, but none of them are as easy to configure or set up, and no other solution can instantly virtualize any Windows machine while giving you instant access to a user's desktop by bypassing the user's login authentication! CARBON can be used to boot most computers for instant virtualization. If there are problems booting the computer, CARBON can virtualize forensic images as well as virtual machine images with just a few clicks. Learn what data has changed between points in time and use the advanced and customizable tools for data carving and file searching.


CARBON main features include:
Secure booting of computers and Intel-based tablets.
Instant virtualization of Windows-based computers.
Instantly bypass Windows credentials (Windows 7 to Windows 10).
Possibility of previewing and/or viewing without ANY modification.
Ability to preview and/or test computers without detection.
Built-in write protection.
Ability to create a video or screenshots of your virtualization for documentation.
Ability to perform malware analysis in a secure environment.
Ability to use proprietary tools in the native environment.
Ability to run other forensic triage tools live without making any modifications.
Including snapshot comparison - find out and document what was changed or modified between the snapshots!
Ability to virtualize most forensic and virtual machine images - both common and uncommon.


PALADIN PRO
Supports imaging of eMMC and nvRAM! Includes PALADIN and PALADIN EDGE 32-bit on a USB stick! PALADIN is distributed out of gratitude to the forensic community, with no intention of making a profit from it. With the purchase of PALADIN PRO you support the further development of PALADIN! PALADIN is a modified "Live" Linux distribution based on Ubuntu, which simplifies various forensic tasks in a well-founded way with the PALADIN Toolbox.



PALADIN PRO features
Faster boot times compared to optical discs!
Includes both 64-bit and 32-bit versions of PALADIN to support both newer and older computer systems.
Includes PALADIN EDGE 64 capable of forensic backup of NVMExpress and eMMC drives (e.g. newer MacBooks and HP Streams)!
Comes with a full GUI based forensic suite - Autopsy!
Boot your computer in a safe environment.
Create images in various formats such as Expert Witness (.E01, .Ex01), Apple Disk Image (.dmg) and Raw (.dd), SMART, AFF, VHD and VMDK!
clone devices
Create two forensic images or clones at the same time.
Backup over a network - NFS and SMB are supported!
Format each drive as NTFS, HFS+, FAT32 or EXT4 and ExFAT.
Create a forensic image that contains an exact 1:1 replica.
Fast erase, check hash values ​​of media.
Search and preview media by filename, keyword or MIME type.
Precompiled open source forensic tools in our FORENSIC TOOLBOX


* Samsung Type-C USB has a 1-year warranty. Technical support is included while the annual renewal is active.