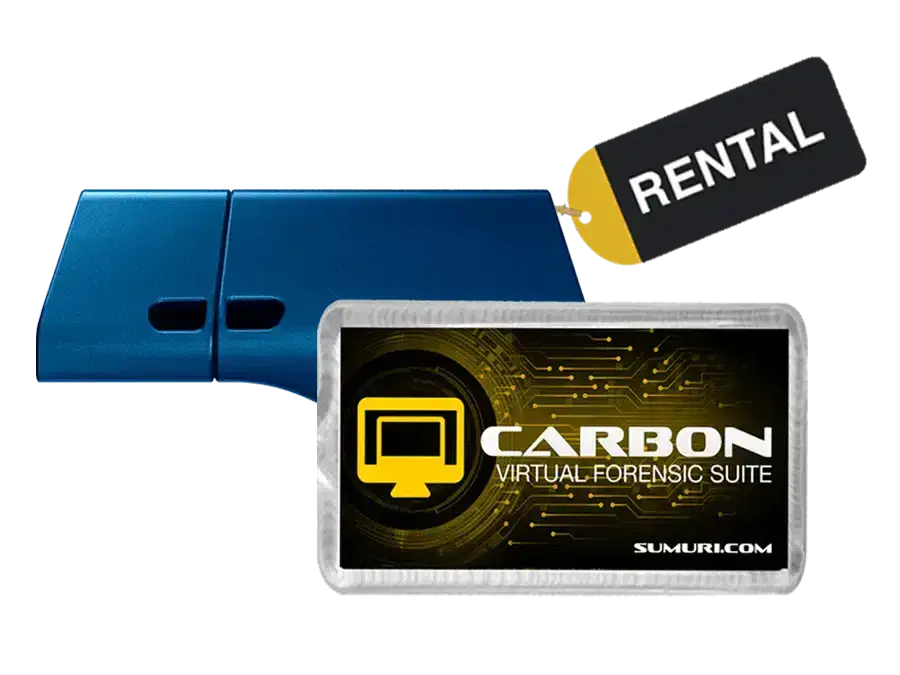 SUMURI CARBON Virtual Forensics Suite (rental version)
Your advantage : No customs duties and no import tax within the EU.
---
THE FUTURE OF VIRTUAL FORENSICS - VIRTUALIZE ANY WINDOWS COMPUTER INSTANTLY - NO IMAGING - NO DISASSEMBLY

While other virtualization solutions exist, none are easy to configure or set up, and no other solution can instantly virtualize any Windows machine while giving you instant access to a user's desktop by bypassing the user's login authentication! And all without any changes to the original evidence or data!

CARBON can be used to boot most computers for instant virtualization. If you have trouble booting your computer, CARBON still virtualize forensic images and any virtual machine images with just a few clicks.

Compare two virtual snapshots with our snapshot comparison tool. Learn what dates have changed or changed between different points in time!

CARBON also includes the PALADIN toolbox for advanced image editing and automatic write blocking.

We didn't stop there and included advanced and customizable data carving and file searching tools.

CARBON key features include:

Ability to securely boot computers and Intel-based tablets.

Instant virtualization of Windows-based computers.

Instantly bypass Windows login (Windows XP to Windows 10).

Ability to preview and/or triage without making any changes.

Ability to preview and/or triage computers without detection.

Built-in write protection.

Ability to capture images with the PALADIN Toolbox.

Ability to create a video or screenshots of your virtualization for documentation.

Ability to perform malware analysis in a secure environment.

Ability to use proprietary tools in the native environment.

Ability to run other live forensic triage tools without making any modifications.

Includes snapshot comparison - learn and document what was changed or modified between snapshots!

Ability to virtualize most forensic and virtual machine images – both common and uncommon.