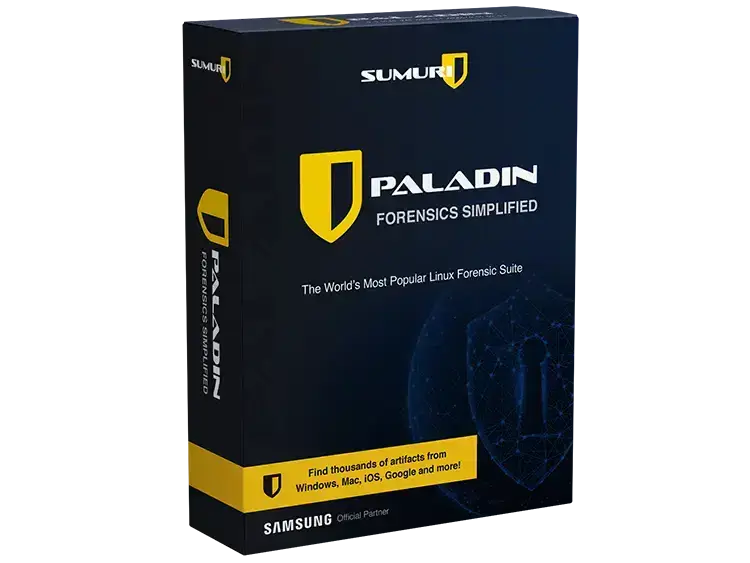 SUMURI PALADIN Forensics Suite
Your advantage : No customs duties and no import tax within the EU.
---
PALADIN EDGE (32-bit) is a modified "Live" Linux distribution based on Ubuntu that simplifies various forensic tasks in a forensically sound way via the PALADIN Toolbox. PALADIN is a complete solution for triage, imaging and examination.

Please read carefully: To download PALADIN EDGE you need to create an account and the Terms and Conditions agree to the use of our services and this website. These terms also include permission to contact you about SUMURI news, products, updates and events. You can properly unsubscribe at any time.

paladin_edge.iso: de866310f4ea3e17e5762ad4e605c385

PALADIN 6.08 Changelog:

Added workaround for sporadic memory leak when creating and verifying in Expert Witness format.

Removed option to segment forensic images to avoid issues related to maximum segment boundaries.

PALADIN TOOLBOX

This is the PALADIN application you've all come to love, completely rewritten and optimized. Designed to make you a forensic rock star!

Main functions of the PALADIN Toolbox

Start your computer in a safe environment

Image to various formats including Expert Witness (.E01, .Ex01), Apple Disk Image (.dmg) and Raw (.dd), SMART, AFF and VMDK!

clone devices

Simultaneously create two forensic images or clones

image over a network

Format each drive as NTFS, HFS+, FAT32 or EXT4 and ExFAT

Create a forensic image of only the unallocated space, free space, and file slack

Quickly wipe (sterilize), verify, and hash media

Search and preview media by filename, keyword, or MIME type.

logging

There are two types of logs in PALADIN - task logs and live logs. Task logs record all tasks during a session. Live logs provide information about the current task. You can save your logs to any destination by selecting "Select medium to save logs" from the Logs menu.

PICTURES TAB.

The Imager tab allows you to output to two destinations at the same time. Here you can choose between the image formats .dmg, .dd, .E01, .Ex01, SMART, AFF or .vmdk. If you select "Device" you can create a clone. You can also convert one forensic image to another using the Image Converter tab.

Search tab.

Does anyone have a file preview? Make sure a read/write drive is mounted to store the results. Select your drive to preview. Search by filename, content (keywords), or MIME/file signatures ( www.webmaster-toolkit.com/mime-types.shtml ). Select your target drive and enter a name for your search. Your files will appear in an explorer window! Choose "Copy Original" to export your results.

UNALLOCATED TAB

There are many file carving utilities out there, but how can you get only the Unallocated space, file slack and free space from a drive and save it as a file? The Unassigned tab is your solution.

Disk Manager

Refresh button - Drive not showing up in the drop-down boxes? Click the new Refresh button to have PALADIN poll the devices again!

Mount/Unmount Buttons - These buttons allow you to mount and unmount drives as read-only or read/write. Just select the volume you want to mount or unmount from the list and away you go!

Verify button - The Verify button generates an MD5 and SHA1 hash for each selected device or forensic image.

Format button - On the Format tab, you can format a drive with an HFS+, FAT32, ExFAT, NTFS, or EXT4 file system.

swipe button – Need to sterilize your drive? The wipe button writes zeros across the entire drive in a single pass. A new "Verify after delete" feature has been added for extra security!

Image tab - With PALADIN you can mount a partition from your forensic image.

Samba/Window Sharing Tab - With PALADIN you can add a network volume by selecting "Mount" and adding the appropriate information.

PALADIN and PALADIN Toolbox were developed courtesy of the SUMURI team for the forensic community.

 

We hope that you use PALADIN sensibly.

 

We recognize that many agencies have limited or no budgets.

 

We sat in your seats so we understand.

 

We too were and are auditors.