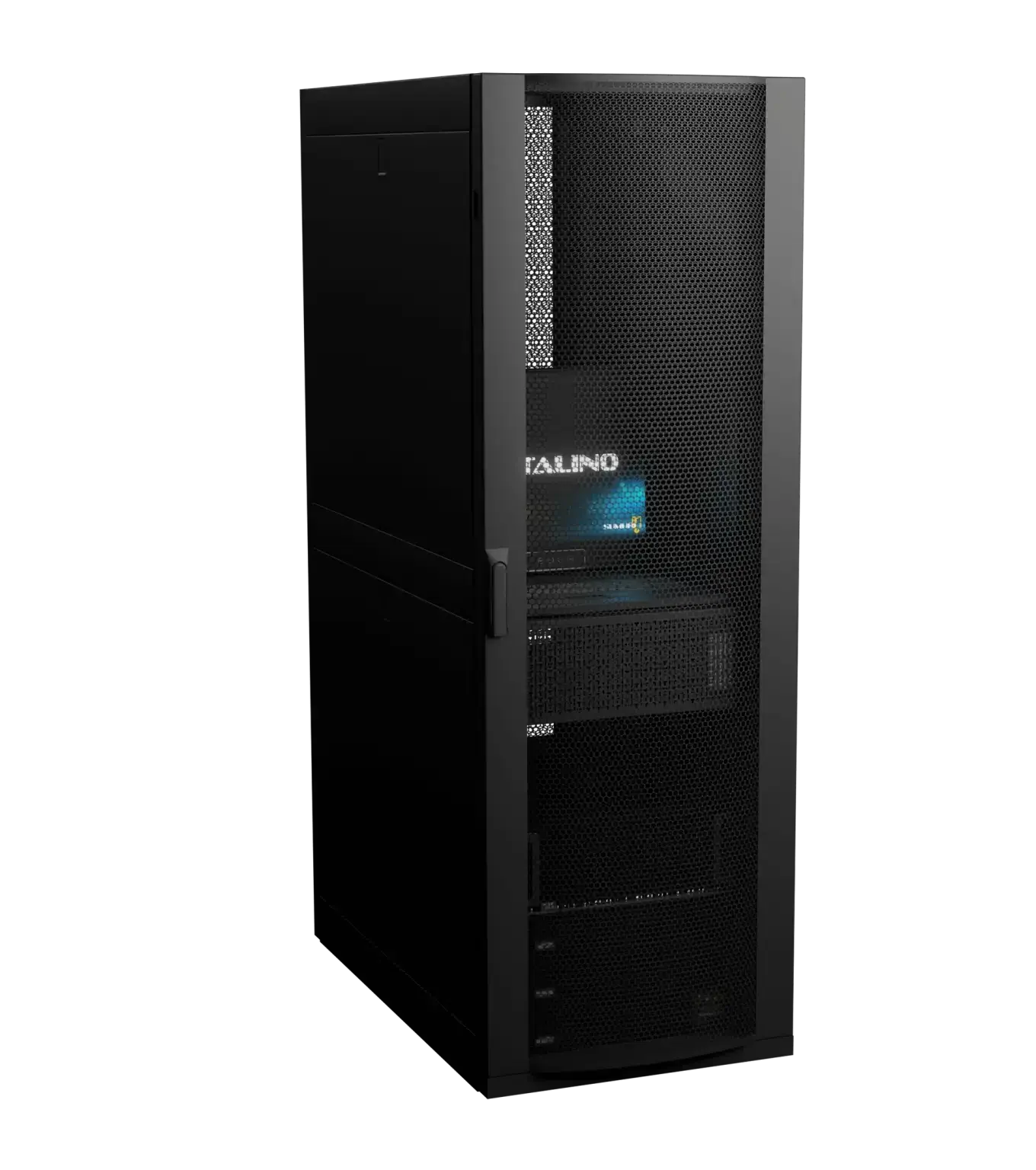 SUMURI TALINO KA Hyper Server
Sale price

€159.999,00 EUR
Regular price
(/)
Sold outSave €-159.999,00
Tax excluded. Shipping calculated at checkout
LANCologne is an official partner of SUMURI .
---
Description
About the product
The SUMURI TALINO KA-Hyper Server is our flagship solution to processing and storage that rivals all other solutions in the computer server market. The TALINO KA-Hyper Server holds more storage than any other solution on the market including the big name vendors in the world of IT based storage / server solutions. Coming in at up to a colossal 5.16 petabytes of raw space, this beast will handle all your storage needs from case files to body cam footage!
Technical specifications
Node for Managing External Data Storage:
Two (2) Intel Xeon Gold 6334 3.6GHz 8-Core FCLGA4189 Processors
Active Cooling for the Central Processing Units
64GB of DDR4 2666 MHz ECC RAM*
Three (3) 1TB SSDs configured in RAID 5 for the Operating System
Ten (10) 10TB Hard Drives configured in RAID 6 for Backups
Two (2) High End RAID Controller Cards with 12 Gb/s Processing
One (1) RTX A4000 with 16GB GDDR6 VRAM Graphics Processing Units
One (1) 10GbE Dedicated PCIe NIC Controller with Two (2) RJ-45 Ports
One (1) 16GbE Dedicated PCIe NIC Controller with Two (2) SFP+ Ports
One (1) 2.5" Hot Swap Bay with Four (4) Removable Trays – Filled up with Three (3) 1TB SSDs for the Operating System
Two (2) 3.5" Hot Swap Tray totaling Ten (10) Removable Bays – Filled with above 10TB Disks
One (1) 2 Port USB 3.0 Hub
One (1) 1600 Watt Power Supply Unit
Microsoft Windows Server 2019 Essentials (No CALs Required) **
Acronis Cyber Protect – Backup Advanced Server – 3 Year License
Server Components:
Two (2) 4U JBOD Backplanes 720TB (1.44PB) – Contains One Hundred Twenty (120) 12TB HDDs (8U Total)
4U 5000VA 4500W UPS Smart Online Rackmount 5kVA 208V/120V 6URM RT – NEMA L6-30P input (3 wire)
2U Step-Down Transformer Rackmount
1U Single Port KVM Console for Server Rack – VGA KVM – 19in
1U 52-Port Smart Managed Pro Switch, 48 GbE, 4 10Gb Ports
0U PDU 100V – 240V 16A – 12 C13; 2 C19
0U 120V PDU
Three (3) Year Standard Warranty
Sixty (60) Drive Backplane Details
Host Connections: 4 x 12GBps SAS
Capacity / Physical Size
Capacity (minimum): 720TB with 12TB drive modules
Capacity (maximum): 1320TB with 22TB drive modules
Dimensions (Enclosure): 174.8mm x 424mm x 881mm / 6.88in. x 16.69in. x 34.7in.
Dimensions (Enclosure with CMAs): 8mm x 424mm x 983mm / 6.88in. x 16.69in. x 38.7in.
Weight: 81 kg (198 lbs.) – fully configured with 60 helium drive modules; 93.71 kg (208 lbs) – fully configured with 60 air drive modules
Power and Cooling Specifications
Power Supply: Two 1,650W PSUs, hot swap, and redundant
Input Voltage: 200-240VAC auto-ranging, 47Hz-63Hz input (high line power only)
Cooling Fans: N+1 redundant fans (fans integrated in PSU)
Environmental Specifications (operating)
Temperature Range: 5° to 35°C
Humidity: 8% to 80% (non-condensing)
Shock: 5g 6ms Pulse vertical shock
Vibration: Random 0.25 Grms, 5-10Hz, 0.05 g sine wave sweep, 10-300Hz
Acoustics: <7.5dB LwA @ 23oC
Environmental Specifications (non-operating)
Temperature Range: -30° to 60°C
Humidity: 8% to 80% (non-condensing)
Shock: 8g 6ms Trapezoidal
Vibration: Random 0.6 Grms 10-300Hz
*The TALINO KA-Hyper Server uses a Hardware RAID configuration, the installed RAID card does not require additional RAM to operate.**Windows Essentials has a 64GB of RAM limitation. To exceed this, contact us for a more personalized configuration for your agency or organization.Pleasecontact usfor additional configurations with theTALINO KA-Hyper Server. We have a variety of solutions in place to meet and exceed your processing and storage needs. Our experts can customize the server to maximize your workflow and processing!
Safe shipping
We will send your package safely and well packed to your address.
Fast customer service
Our customer service is happy to answer any questions you may have.
100% security
With us you get absolute security, thanks to SSL encryption.
Secure payment
We offer you a secure payment in advance.